Competitive kickboxing training
Kickboxing is becoming extremely popular in New York City. In competitive kickboxing classes, students train to learn the skills in the discipline. Here's a look at what to expect when you train in Kickboxing.
Origins of kickboxing come from other sports disciplines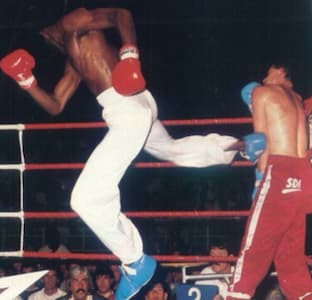 While kickboxing is a fairly new sport, it has roots in several other sports. One of them is Muay Thai, which means Thai Boxing. It is the national sport of Thailand. Unlike traditional boxing, the fighting in Muay Thai involves striking with hands, elbows, knees, with much shin kicking. The sport has also famously been called "the art of eight limbs" because of this.
Another sport that heavily influenced kickboxing is sport karate, also known as point karate. In sport karate, participants would fight until a point is achieved.
And, of course, boxing influenced kickboxing, with two people squaring off, a set time limit with rounds, and a boxing ring to fight in, as well as a referee to govern the match. Also, instead of ropes around hands, kickboxers fight these days with boxing-style gloves.
American-style kickboxing vs. Dutch-style kickboxing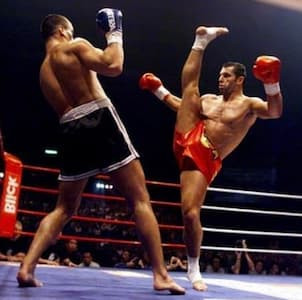 Dutch kickboxing is a bit different from American kickboxing. The Dutch version of the sport followed the same linear path of origins as the American version, incorporating Muay Thai, boxing, and karate. However, the Dutch version also has a knock-down karate style, involving low kicks to thighs and knees, and continuous fighting. The American version of kickboxing does not allow punches or kicks below the waist. The Dutch version also has more of an influence from Muay Thai than the American version does.
American-based kickboxing vs. European-style kickboxing
Much like Dutch-style kickboxing, European-style kickboxing allows lower kicks. However, kicking in the groin area is against the rules. European-style kickboxing, also known as K-1 kickboxing, also has similar origins, with influences from karate, Muay Thai, and boxing. It also has the clinching style from Muay Thai.
Kickboxing competition today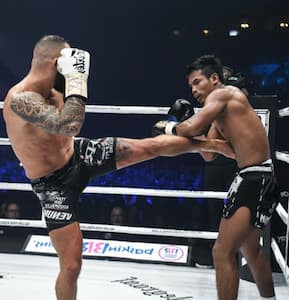 These days, kickboxing in New York City has a more singular, stand-alone style, It has a very well mixed together striking form, with more fluid transitions and techniques
The Glory World Series Sports League is the premier kickboxing organization. Its bouts allow kicks, punches, and knee strikes, with very limited clinching.
The modern rules allow a wider variety of techniques and limits others, for a more fluid and action packed contest. These techniques are incorporated from the various striking styles practiced today.
Types of sports styles included in kickboxing
Muay Thai
Knockdown karate
Sport karate
Tae Kwon Do
Dutch-style kickboxing
American-style kickboxing
Jeet Kune Do
Western boxing


Competitive kickboxing training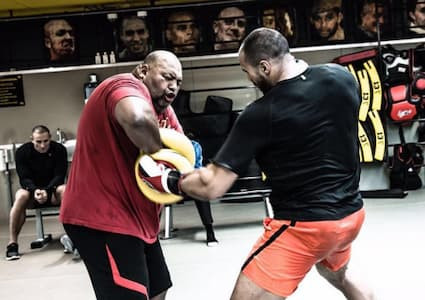 Kickboxing training today follows the same evolution as Mixed Martial Arts (MMA) training. It is less about becoming an expert in any one of these disciplines, and more about developing a personalized style that employs elements of these striking arts.
These days, you can't really identify specific styles in kickboxing, as the sport has become its own genre, comprised of other styles.
As for training, conditioning is similar to that for MMA training. Cardio work is important, of course. Beginners typically participate in group class that focuses on: skill development training, cardio , and may do private sessions with coach and or/other fighters for more tailored development work.
When students advance, competitors don't completely leave group classes, but they solidify skill set by working with their coach on a one-on-one basis, drilling their techniques with isolation drills and sparring sessions, all while implementing their own personal strength and conditioning plan.
Tools used in competitive kickboxing training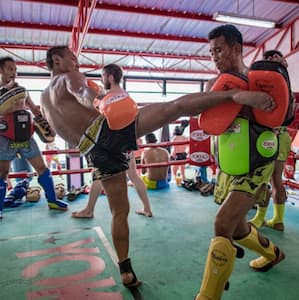 Students learning competitive kickboxing training in New York City use varying tools they use to strengthen both themselves and their skills. They use heavy bags for punching, practice jump rope, run a lot, use striking mitts, employ sparring sessions with training partners, and shadow box. All this hard work pays off as students improve their skills.
Kickboxing training in New York City
While training competitively in kickboxing is an individual endeavor, however, it typically starts off with taking a kickboxing class, creating a network of training partners, and developing rapport with coach staff. It is also important to do "homework" outside of the classes, like doing
homework such as cardio, running, and pushups. It's a bigger level than just simple classes, with the cardio, strength and conditioning, drills, sparring, as well as a healthy diet. The training is basically a lifestyle.
Kickboxing training at Ronin Athletics
While Ronin Athletics' Kickboxing program was founded by Christian Montes, a retired professional MMA fighter. He incorporated the training framework he learned as a fighter, preparing for his matches, while leaving out the intensity and combative culture of a fighting gym. Ronin Athletics provides a middle way for those interested in learning the technical skills and fitness benefits of competitive Kickboxing, while not having to deal with the intensity of a competitive fighting gym culture. This release in the pressure to win, allows the practitioner to delve deeper into the technical aspect of the art and focus more on beautifully executed striking combinations with effortless movement.