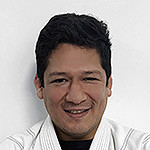 Christian Montes
BJJ Black Belt and Gracie Certified Instructor
Christian is a lifelong martial artist with over 20 years of teaching, training and competition experience. He started his martial arts journey in Jeet Kune Do & Filipino Martial Arts Systems, moving on to compete in amateur Boxing, Muay Thai & Kickboxing and earning his Black belt in Brazilian Jiu-jitsu under multiple-time champion, Felipe Costa.
He's had his share of competition victories including: 8x NAGA Expert division Champion, New Breed Tournament Champion, multiple time IBJJF No-Gi division Champion and former professional Mixed Martial Arts competitor. While his counterparts moved on to become professional fighters, Christian used his competition experience as his lab. To enhance his teaching abilities by testing the functional application of the techniques he's learned. His aim was simple – take an ordinary person, with zero natural athleticism, and develop their self-confidence by teaching them the techniques that enable them to defend themselves effectively against a larger opponent.
In 2002 he founded Ronin Athletics renting mat space to teach a handful of students and moved to his first gym 4 years later. His many years of experience in developing people of different levels have lead him to his proudest achievement as a Gracie Jiu-jitsu Certified Instructor and representing Gracie Jiu-jitsu in New York City.