A Brief History on Women's Self Defense in NYC.
Women's Self Defense in the United States can be traced back to the turn of the 20th Century. The Progressive Era marked the beginning for women to claim their social and economic place in society – to claim those rights they had to learn to set and defend their personal boundaries.
In 1905, when telephone operator Nellie Griffin, was on her way home from work, she was harassed by a man after rebuking his advances. He continued to follow her home and at one point grabbed onto her arm. Frustrated and offended, she clenched her fist and punched him square in the face. She later explained to a male reporter, "If you could be forced to stand everlasting insults that a woman is, you could understand why I acted as I did tonight. I have waited too long for some bystander to take up the fight for me, but no one ever volunteered, I was compelled to assert my rights."
Boxing and Wrestling were the main forms of martial arts practiced in the U.S. during the late 1800's and early 1900's. Training was full-contact, and while the science of efficient fighting made sense, for the weaker individuals that needed it most, it mostly attracted athletic men who competed in tough man competitions. Ultimately, these martial art disciplines were developed for pugilistic spectator sports, moving it further away from the women that needed it most.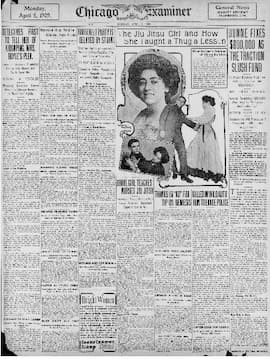 Fitness Boxing or Kickboxing
CKO, Title Boxing, I Love Kickboxing, Cardio-Boxing/Kickboxing. These disciplines place great emphasis on Fitness while teaching the basics of punching and kicking. The business model follows those similar to drop-in fitness classes, so the basic techniques are simplified for a newcomer to easily benefit from their first class. It is a great introduction to basic punching and kicking, and an extremely beneficial workout routine. However, it lacks the technical knowledge for practical women's self defense in NYC.
Pros: Great workout – it's a great cardio and aerobic workout.
Cons: False sense of security – learning to punch and kick a heavy bag, may give a false sense of security to a woman. Unrealistic expectations, that assaults can be stopped by a strong punch or kick. Will not work in real-life threat scenarios.
Combat Sports
Boxing, Muay Thai, Kickboxing, Brazilian Jiu Jitsu and Mixed Martial Arts. Rooted in One-on-One Combat Sports where timed rounds, weight divisions and rules dictate the training regimen and curriculum.
Pros: Training efficiency and effectiveness. The ability to train techniques and realistic combat sport scenario can provide a high degree of confidence when applying techniques in real life. The technical skills learned in this combat sport, may enhance ones ability to defend oneself on the street (to a certain degree).
Cons: Self defense knowledge is good, but competition mindset is a limiting factor in women's self defense training, due to training parameters – the goal of fighting someone (one-on-one) within weight class and ruleset have some limiting factors. Focus on competition-based techniques and mindset may contradict responses to real life threats. It will take many years to develop the timing and efficiency to apply these techniques in an unforgiving life and death threat scenarios.
Reality Based Self Defense (RBSD) Training
Jeet Kun Do, Filipino Martial Arts, Systema and Krav-Maga. Typically developed for present day military combat these are typically an eclectic form of Martial Arts Self Defense discipline. They're the more modern form of Martial Arts that incorporate techniques of different striking systems which address realistic threat scenarios.
Pros: Self defense knowledge is very good as it is based on realistic threat scenarios.
Con: Relatability may differ, based on expected threat scenarios. Usually involves foul tactics (ie. violent strikes, eye gouging, groin shots, bone breaking, etc.). Because it is rooted in military assault scenarios, it is certainly reality-based, but may not be in line with the context that most civilian women in New York City face. The scenarios practiced typically involve extreme situations such as violent assaults, knife, stick and gun scenarios. It's on the extreme end of the spectrum where it doesn't scale to more high probability urban threat situations. Also, it may take a few years to develop the timing and skills needed to employ the techniques.
SO, WHAT IS THE BEST FORM OF SELF DEFENSE FOR WOMEN IN NEW YORK CITY (NYC)?
To determine the best form of Women's Self Defense in NYC training, it makes sense to establish the context and the environment Women in New York City typically engage, along with their related threats.
There are typically two types of threats:
1. The Stranger - Someone unfamiliar to the victim.
2. The Non-Stranger - Someone within the victims social and/or professional network.
NYC SCENARIOS WHERE ASSAULTS ARE LIKELY TO OCCUR:
1. During Commute. There's a greater probability of Stranger assaults to take place during commute (such as errands, to-and-from work, shopping, etc) in New York City whether walking, taking public transportation or taking cabs.
2. Social Settings. The social scene in New York City is world renowned. There's a greater probability of Non-Stranger assaults when interacting in a Social setting.
3. Network Settings. Career oriented women understand that expanding one's network within their industry is paramount to establishing a successful career. There's a high probability of Non-Stranger assaults when interacting within their industry network setting.
4. Education or Professional Settings. Networking within the organization whether a college or work environment is also important to advancement. There's a high probability of Non-Stranger assaults when interacting within the social setting of school or workplace.
Having determined where possible assaults may occur, we understand that 3 of the 4 assault scenarios, have a higher likelihood of being carried out by a non-Stranger. The reason being – all 3 scenarios have a higher likelihood of the woman lowering her guard in order to interact socially. Responding to these non-stranger threats with extreme responses (like groin shots and eye-gouging) may not be an option for the woman, thus limiting her ability to defend herself.
However, we do not want to downplay the threat of being assaulted by a stranger, as commuting is an essential part of a female New Yorker's lifestyle. Responding to these life-threatening threats with theoretical or non-effective techniques may work against the potential victim.
Thus, the best form of women's self defense in NYC not only teaches how to punch kick, and gouge, but also further develops their: natural defensive instinct, to avoid being an easy target, courage to set personal boundaries, and equip the woman with the knowledge and techniques to enforce those boundaries, based on the level of threat.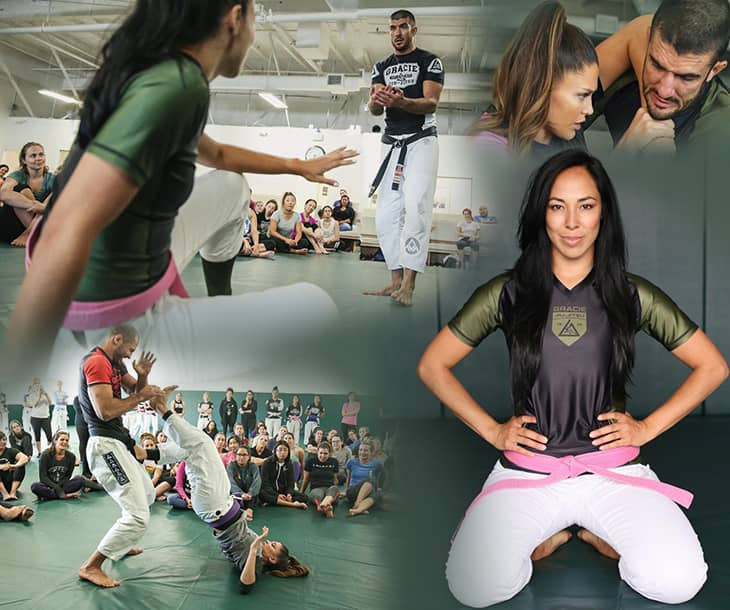 WOMEN EMPOWERED SELF DEFENSE CLASSES TAUGHT BY CERTIFIED PROFESSIONAL INSTRUCTORS
The Women Empowered® Program at Ronin Athletics is the only program in New York City that offer the answer to realistic threats faced by Women living in New York City. The techniques are scalable – from using verbal self defense tactics against unwanted advances from a co-worker to choking out a would-be attacker attempting to assault you on the street. Our professional instructors provide a program that offers a clear path to learning reality-based self defense techniques and empowers every Woman participant, by helping them establish their personal boundaries, and providing them the facility to actively practice techniques to enforce their personal boundaries.
This Certified Gracie Jiu-Jitsu Training Center is independently owned and operated. Gracie Jiu-Jitsu®, Gracie Combatives®, Gracie Bullyproof®, Women Empowered®, and Certified Gracie Jiu-Jitsu Training Center®, are registered trademarks used under license from Gracie University.