Learning to Fight at Ronin Athletics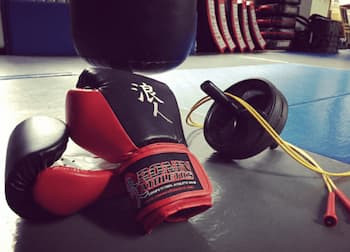 Learning how to fight is not the same as learning to punch or kick, which is covered in KB 101. Non-competitive sparring allows the beginner to understand the dynamic forces and concepts at play in a fight.
The great appeal for practitioners who go on to fight training, is the opportunity to take the foundational techniques and concepts learned in KB101 and apply them in a free form setting. The possibility of getting 'bopped' on the head or body by your opponents punch or kick, accelerates the feedback on whether the science learned in KB101 has been applied effectively.
We do not see Kickboxing fight training as a means of developing every practitioner into a professional fighter, instead we see it as the opportunity to express the techniques and concepts learned in KB 101, in an optimally safe and uninhibited way. There is an empowering sense achieved once you're able to express your personal creativity, when applying KB101 concepts into your personal form of expression during a sparring session.
KB 201 – Developing Soft Skills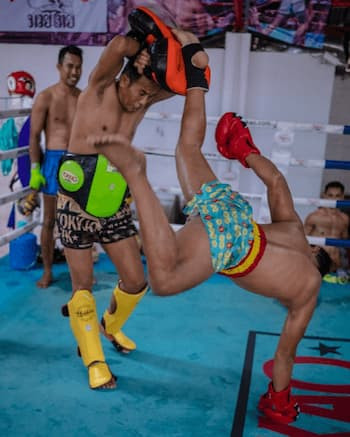 In KB 101 the practitioner continues to learn new punching and kicking techniques, combinations and countermeasures in compartmentalized silos. KB 201 removes the silos in order to begin developing the practitioners fight logic into a cohesive form of expression. The objective of this class is to develop the soft skills of fighting such as: instinct, creativity, conviction, and resilience. This is where individual expression begins to take root.
KB 201 – Class Format
KB 201 is an extension of the KB 101 class. At the conclusion of the KB 101 class, the members that are approved to participate in KB 201, immediately 'gear up' with their shin guards and mouthpieces and partner with someone close in height and weight.
The class is broken up by intervals which are timed rounds. Typically, 3:00 minutes of continuous sparring and 30 seconds of rest in between rounds.

If it is a sparring drill class, then partners alternate roles between aggressor and defender.
If it is a sparring practice, then there is a partner rotation across all the participants.
KB 201 is typically broken up into two types of classes: Sparring Drills and Sparring Practice. Each with their own specific goals.
Sparring Drills - The coach simulates a specific scenario that may occur in sparring match. The aggressing partner is instructed to execute a specific attack combination and the defending partner is instructed to execute a specific countermeasure response.
Sparring Practice – The participants pair-up and spar for 3:00 minute rounds with 30 seconds rest in between for a total of 6-10 rounds per class.
How Long Does It Take to Graduate to KB 201?
For serious students, they may be ready for KB 201 after 6 months in KB 101. For less serious students, it may take longer.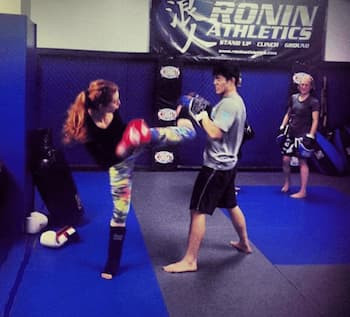 This is not just because the KB 201 class is more intensive. To return to the guitarist analogy (KB 101), think of the beginner from above sitting in with a group of veteran musicians. For everyone to get a chance to participate, the veterans will have to play to the beginner's limitations. This is hardly fair to them.
Do I have to attend KB 201? Can I just stay in KB 101?
Members are not required to attend KB 201 class. Training progression is always left to the practitioner.
Getting Started with KB 201
Earning entry into KB 201 class is not easy and is not an arbitrary decision made only by the Coach. After a few months of mindful practice, you will begin to understand the concepts. The techniques and combinations will become second nature, such that you are able to increase your level of intensity during training without having to think about the techniques you are applying. At this point, it will be self-evident (as well as evidence to the coach) that you are ready to incorporate KB 201 into your training. Organically, your entry to KB 201 will happen and transitioning into sparring training will feel natural.