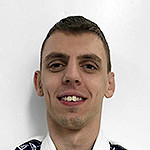 Bartlomiej 'Bart' Tabazewski
Head Kickboxing Coach, Senior Jiu Jitsu Coach and Gracie Certified Instructor
Bart moved from Krynica-Zdroj, Poland to Brooklyn, New York at the age of 14. Like most kids growing up, he enjoyed playing soccer and riding bicycles but also experienced the downside of adolescence - being Bullied. As Mixed Martial Arts started growing in popularity, he was fascinated by the methods used by these fighters to defeat their opponents and he followed his fascination through YouTube watching other promotions like Pride and UFC. He saw these submission techniques used as a way to defend and gain respect for himself. He researched the many gyms in New York City and came upon Ronin Athletics and scheduled his free introductory lesson on January 2013, where he began group classes shortly after.
Bart is a BJJ Brown Belt, an experienced competitor, and well rounded individual. Having fought successfully in Kickboxing & Muay Thai organizations like Friday Night Fights, US Muay Thai Open and Glory at Madison Square Garden, as well as Jiu-jitsu tournaments like NAGA and Grapplers Quest , he's surpassed his initial goal to defend himself.
Today, he continues to sharpen his skills and develop himself in all aspects of training and his life. He's passionate about teaching others what he's learned and his motivation is further fueled when he sees firsthand the transformative nature of Martial Arts training.